Infotech Galaxy provides customized software for businesses through its Software Development Division. These Software Solutions in database applications, inventory management, Client server applications etc. are tailor-made for each customer. They are designed to be cost effective, high quality, scalable and easily maintainable systems which are well documented and automate existing business processes.


Infotech Galaxy has an Off-Shore Development Unit (O.D.U) wherein projects for offshore clients are executed in India. The division also offers consulting services in cutting-edge technologies. Infotech Galaxy software team also offers on-site development work for its domestic or overseas clients.

Software team uses leading technologies like ASP.net, PHP, J2EE, VB, VC++, ASP, JSP, WML, XML, Servlets and backends like MSAccess, MS SQL, mySQL and Oracle.

These software solutions developed by Infotech Galaxy are followed up with proper after-sales service and training for various packages, by fully qualified and motivated support personnel.



Stbedes (an summer school Software)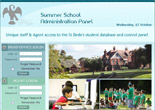 Stbedes is an summer school online software that has been designed and developed for efficient working. It mainly focuss on Student Management . Some of its main features include; Invoicing, Emails, Billing, Center Allocations, Agents Tracking etc.